Our premium poultry products are designed to meet the needs of an ever-changing industry, offering innovative and sustainable solutions for poultry production.
La prima macchina carica polli automatica brevettata al mondo rappresenta una soluzione innovativa per l'industria avicola. Dotata di avanzati sistemi di rilevamento e presa, questa macchina è in grado di caricare polli nelle apposite confezioni in modo completamente automatizzato. Grazie al brevetto, questa tecnologia si distingue nella sua efficacia e affidabilità.
History
This is the story of the Giemme Company in Mola from 1974 to today, two generations of inventors and innovators in the poultry automation sector.
Read the story
We are pleased to announce the launch of our new website Giemme di Mola, dedicated entirely to the products and services offered by Mola Srl in the field of poultry automation. As a specialized manufacturer in the sector, we offer a wide range of machines for automatic loading of chickens and turkeys
read more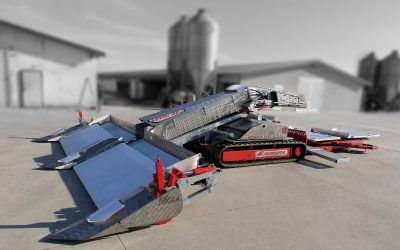 Automatic chicken loader series MX3 AURORA Very high quality and reliability, proven by the fact that they are still fully functional at all our customers, and none of them has ever been stopped for cargo damage
read more